DC 201 serves Oregon and Southern Washington CPSA members 

How to Join or Renew Your Membership

You must be a member of the National CPSA organization to join a local chapter. The CPSA membership year begins each November 1. Although you can join at any time, membership fees are not prorated. Fees submitted on or after August 1 will apply to the membership year beginning on November 1.

National CPSA Membership

Any colored pencil artist 18 years of age or older is eligible to join CPSA. All fees are in U.S. funds. The national fee is $45 annually (U.S. and Canada) and $65 for all other countries. The national organization also offers 10-year memberships. 
Learn how to join the national CPSA organization
.
District Chapter 201 Membership

Artists who join the national organization are eligible to join one or more local chapters. CPSA District Chapter 201 primarily serves all of Oregon and Southern Washington members, but is open to all members regardless of their location.

To join the chapter, renew, or change your contact information, download, print, and complete the 
DC 201 membership form
 and mail it to the membership director listed on the form. The chapter membership fee is $20 annually.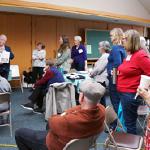 |  © CPSA District Chapter 201